Cheung Kong Group Enters a New Infrastructure Era
6 January, 1997 - Hong Kong
Mr Li Ka-shing, Chairman of Cheung Kong (Holdings) Limited ("CKH") and Hutchison Whampoa Limited ("HWL"), announced a major reorganisation of the Cheung Kong Group at a press conference today. The reorganisation will involve all four publicly-listed members of the Cheung Kong Group: CKH, HWL, Cheung Kong Infrastructure Holdings Limited ("CKI") and Hongkong Electric Holdings Limited ("HKE").
According to Mr Li, the new structure will allow the Cheung Kong Group to develop their infrastructure businesses even more effectively.
The reorganisation will in substance consist of the following principle events:
HWL has increased its ownership in HKE to over 35% through the cash purchase of HKE shares. Accordingly, HWL is obliged to make a conditional cash offer for HKE. The offer price will be HK$26.50, approximately a 5% premium to HKE's closing price last Friday on the Hong Kong Stock Exchange.
Upon completion of the cash offer, HWL will transfer its existing shareholding of 35.01% in HKE to CKI for new shares of CKI. Should HWL end up with over 50% of HKE's shares as a result of the cash offer, HWL will transfer approximately a further 15% of HKE to CKI for cash. Any additional shares of HKE acquired by HWL will be retained by HWL as a long term investment.
CKH will transfer its entire shareholding in CKI to HWL. As consideration, HWL will issue new shares to CKH.
Transactions involving HKE shares will be priced at approximately a 5% premium, and transactions involving HWL shares and CKI shares will be priced according to market closing prices on January 3, 1997 - the last business day prior to announcement of the offer. As a result of the reorganisation, CKH will own 50.2% of HWL. HWL will have a majority stake of 84.6% in CKI, and CKI will have a controlling interest of not less than 35.0% in HKE.
The reorganisation is principally conditional on the approval of the shareholders of CKH, CKI, and HWL, as well as certain regulatory approvals. An offer document containing detailed terms of the Offer will be issued within 21 days.
The shares of all four companies were suspended from trading on the Hong Kong Stock Exchange on January 6, 1997, and applications have been made for the resumption of trading on January 7, 1997.
Mr Li explained, "The immediate benefit of the reorganisation is the streamlining of the Cheung Kong Group's infrastructure businesses. There will be no change in the operations or management of any of the companies involved. However, the new structure will allow us to allocate resources and match areas of specialisation and management teams more efficiently."
Following the reorganisation, each company in the Cheung Kong Group will have a distinct identity as to the scope of its business operations.
CKH, the Cheung Kong Group's parent company, will continue its focus in property development and strategic investment holdings, and will have an increased stake in HWL.
Under the new structure, all the infrastructure businesses of the Cheung Kong Group will be grouped in or under the HWL Group, which will also maintain its interests in other business areas, such as property, retailing, manufacturing, finance and investments. HWL will not only retain an indirect interest in HKE, but will also gain a majority stake in CKI, a strong player in the proven business of infrastructure.
Mr Li continued, "The new structure adds further diversity to HWL, an already well-rounded infrastructure conglomerate. With the addition of CKI's infrastructure businesses to its existing interests in ports and telecommunications, HWL will be one of the leading companies in the world for diversified infrastructure businesses."
"CKI is already a strong player in toll roads, toll bridges and power in the PRC. HKE's over 100 years of market-leading experience in the Hong Kong power industry will complement CKI's strengths very well. The acquisition also allows CKI to participate in HKE's future development, which may involve further overseas power business, particularly within the Asia Region as well as internationally," explained Mr Li.
Mr Li commented, "Our intention to increase our stake in HKE reflects our continuing confidence in the prospects of HKE - which will be taking on new dimensions with the addition of international business prospects."
"Overall, the reorganisation reflects our intention to increase our total investment in infrastructure interests. We believe that the new streamlined structure will enable the Cheung Kong Group as a whole to further strengthen its infrastructure investments, operations and developments," concluded Mr Li.
Cheung Kong (Holdings) Limited is one of Hong Kong's leading blue-chip conglomerates, with a main business focus on property and strategic investments.
Hutchison Whampoa Limited is a conglomerate with interests in property investment, retailing, container terminals, telecommunications and energy, finance and investments. It is involved in the telecommunication and port industries principally in Asia, Europe and the Americas.
Cheung Kong Infrastructure Holdings Limited was formed as the vehicle for the CKH Group's infrastructure businesses in toll roads, toll bridges and power plants in the PRC, and infrastructure-related businesses in cement, concrete, asphalt and aggregates in Hong Kong, the PRC and elsewhere in the region.
Hongkong Electric Holdings Limited is involved in electricity generation and distribution to Hong Kong, Ap Lei Chau and Lamma Islands. It has successfully utilised its power expertise, developed over more than 100 years of operations in Hong Kong, in providing consultancy services on projects in a number of countries outside the PRC, including Indonesia, the Philippines, Malaysia and the Middle East.
Existing Group Structure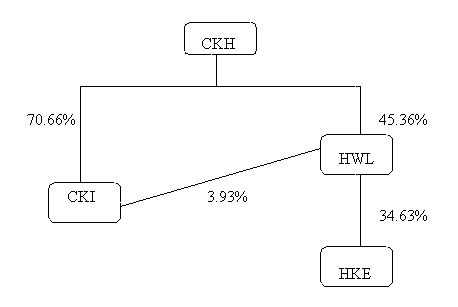 Proposed Group Structure
(assuming no acceptances received under the Offer)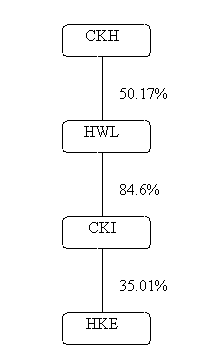 Proposed Group Structure
(If HWL receives 75% of HKE from Offer)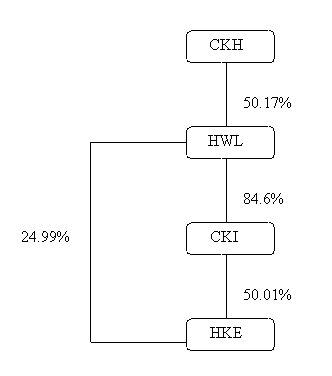 go back