CKI Forms New Strategy To Expand PRC Cement and Concrete Business
2 February, 1997 - Hong Kong
Cheung Kong Infrastructure Holdings Ltd (CKI) has mapped out a new strategy for its cement and concrete operations in the PRC. At the core of the new strategy will be a refined definition of the business operations of its cement subsidiary, Green Island Cement (Holdings) Limited (GIC).
Green Island Cement (Holdings) Limited (GIC) has over 100 years of operating experience and expertise in the cement business. With a dominant market share, GIC is widely recognised as the industry leader and a preferred supplier in Hong Kong's cement industry.
To facilitate its expansion - especially into the PRC, GIC's business focus will be conceptually aimed at three different market segments: GIC Hong Kong, with a mandate to strengthen its cement market leadership in Hong Kong; GIC China, which aims to expand its cement and concrete operations in the PRC; and GIC International, which will continue to develop businesses outside of Hong Kong and the PRC.
GIC China, which covers CKI's cement and concrete operations in the PRC, will initially concentrate on three specific areas:
The Group will expand its cement and concrete operations in Eastern Guangdong through the further development of GIC's existing joint venture in Shantou. The joint venture's Shantou clinker grinding facility is currently under construction, and is scheduled for completion in early 1998.
The Group will join forces with Guangdong International Trust and Investment Corporation (GITIC) to form a strategic alliance in China Cement Company (International) Limited (CCCL). CCCL, a Hong Kong company, will be the principal vehicle for expansion of CKI's and GITIC's cement and concrete operations in Guangdong - mainly in the Pearl River Delta.
The Group will also look beyond Guangdong to develop the Group's PRC cement and concrete operations outside of the province.
An important milestone in the formation of this new strategy is GIC's alliance with GITIC, one of the PRC's most influential financial groups. The alliance will take the form of a partnership in China Cement Company (International) Limited (CCCL).
CCCL will comprise cement distribution/ready mixed concrete plants in Guangzhou, Dongguan, Shenzhen and Zhuhai, which were previously owned and managed by GIC and Ready Mixed Concrete (HK) Ltd (RMC) - a subsidiary of Anderson Asia Limited, which is in turn a subsidiary of CKI. In addition, 95% of Yun Fu Cement Works, formerly owned and managed by GITIC, will be transferred to CCCL.
As a result, CCCL will have a total investment value of RMB 800 million, of which the equity ratio will be 70% GIC and 30% GITIC.
Yun Fu Cement Works - located in Yun Fu City, Guangdong Province - is one of the PRC's few producers of the high grade rotary kiln cement needed for infrastructure and modern high-rise construction. As the need for infrastructure and high-rise buildings increases, so does the demand for rotary kiln cement - unlike the relatively lower-grade vertical shaft kiln cement which is currently oversupplied in the market.
Guangdong's current annual cement production is approximately 50 million tonnes, of which 5 million tonnes is represented by high quality rotary kiln cement. Cement from the Yun Fu Cement Works accounts for approximately 12% of this high-grade cement market segment.
According to Mr H L Kam, Managing Director of Cheung Kong Infrastructure Holdings Ltd, ¡§The reorganization of GIC represents a significant strategic move for CKI. We view our expansion into Guangdong as important step in exposing GIC to the vast market potential of the PRC."
"The cement and concrete businesses have always been an essential part of CKI's business mix. The refined definition of GIC's operational structure will pave the way for its expansion into the PRC - a strategic move to tap the potential of this enormous market. Also, the expansion of our PRC cement and concrete business combined with CKI's existing transportation, water and power projects in the PRC will make a more well-rounded infrastructure player in the China market," concluded Mr Kam.
Mr Barrie Cook, Managing Director of Green Island Cement (Holdings) Limited, explained, "GIC is already the leader in the Hong Kong cement market, and its brand names are well-known throughout Southern China. Through this new alliance with GITIC, GIC will have the opportunity to extend its market leading position into Guangdong. It is envisioned that with GITIC's and CKI's broad business contacts and investments in Southern China, the market position of GIC and RMC in the cement and concrete business will be further strengthened. Our new alliance with GITIC, together with GIC's existing facilities in Hong Kong and our clinker grinding facility in Shantou, will have a combined capacity of 3.8 million tonnes by the end of 1997, making GIC the most broadly-based and vertically-integrated cement company in Hong Kong and Southern China," concluded Mr Cook.
CKI Cement & Concrete Business Structure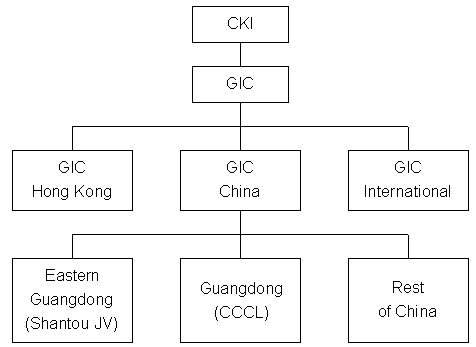 go back