CKI Signs Two Cement Contracts With GITIC
- Signs Deals Involving One of China's Most Technologically Advanced Cement Plants -
3 February, 1997 - Hong Kong
At a signing ceremony held in Guangzhou earlier today, Green Island Cement (Holdings) Limited (GIC), a subsidiary of Cheung Kong Infrastructure Holdings Ltd (CKI), has signed two contracts with Guangdong International Trust and Investment Corporation (GITIC) to further expand its portfolio of cement and concrete businesses in the PRC.
The first contract, signed between GIC and GITIC, involves the formation of a new Hong Kong-based joint venture company - China Cement Company (International) Limited (CCCL). CCCL will take over existing PRC cement and concrete operations from GITIC and GIC.
The second contract, signed between CCCL and GITIC, is regarding a rotary kiln cement plant in Yun Fu City, Guangdong Province. According to the contract, 95% of Yun Fu Cement Works - formerly owned and managed by GITIC - will be transferred to CCCL. The remaining 5% will be retained by GITIC.
The total joint venture including Yun Fu Cement Works and the downstream PRC activities of GIC is valued at approximately RMB 800 million. Equity ratio will be 70% GIC and 30% GITIC.
From now on, CCCL will be GIC's principal vehicle for expansion of its cement and concrete business in Guangdong. Accordingly, GIC has transferred its existing cement and concrete operations in Guangdong to CCCL, with the exception of its clinker grinding facility in Shantou.
Included in this transfer are cement distribution/ready mixed concrete plants in Guangzhou, Dongguan, Shenzhen and Zhuhai, which were previously owned and managed by GIC and Ready Mixed Concrete (HK) Ltd (RMC) - a subsidiary of Anderson Asia Limited, which is also a subsidiary of CKI. The cement distribution/ready mixed concrete plants have a combined capacity of 750,000 cubic metres of concrete production and in excess of 1.3 million tonnes of cement distribution capability.
According to Mr H L Kam, Managing Director of Cheung Kong Infrastructure Holdings Ltd, "Both GIC and GITIC are bringing years of experience in the cement and concrete industry to this new joint venture. CCCL will benefit from the synergy of both companies - GITIC's contribution in the form of upstream cement production facilities, and GIC's downstream distribution and concrete plants. This combination of facilities and expertise will make CCCL a well-rounded company."
Yun Fu Cement Works operates on the modern dry process, and has a capacity of 680,000 tonnes of cement. In addition, the rotary kiln process used by Yun Fu Cement Works is superior to the traditional vertical shaft kiln process in many ways - providing better temperature control and more efficient mixing of raw materials, which results in more consistent output of higher quality, combined with less pollution.
Rotary kiln plants currently represent around 20% of the PRC's total cement production facilities, with the rest being vertical shaft kiln plants. However, the PRC government has placed emphasis on increasing the number of rotary kiln plants over the next few years, hoping to achieve a 40/60 ratio for rotary kiln/vertical shaft kiln plants by the year 2000.
"We are very happy with our new partnership in Yun Fu Cement Works, which is one of the few plants in the PRC capable of producing the high performance cement needed for infrastructure and modern high-rise construction", said Mr Barrie Cook, Managing Director of Green Island Cement (Holdings) Ltd.
"One of CCCL's unique strengths lies in its vertically integrated operation. Upstream production is supplied by the high quality cement from Yun Fu Cement Works, while downstream distribution and concrete production is carried out at strategically located plants throughout Guangdong", commented Mr Cook.
Mr Cook explained,"Guangdong's cement market has been depressed during the past year due to the macro-economic adjustment program. We feel that now is a good time to enter the market to coincide with the start of the ninth five-year plan."
"The increased economies of scale created by the new joint venture will make CCCL a major player in Guangdong's cement and concrete market. We look forward to expanding our operations in line with the enormous potential of the PRC market", concluded Mr Cook.
Guangdong International Trust and Investment Corporation (GITIC) was established in 1980 as a state-owned financial institution under the direct leadership and control of the Guangdong Provincial People's Government. GITIC's main role is to enhance the economic development of Guangdong Province through its ability to raise substantial sums of capital and import foreign technology. Some of the more prominent projects backed by GITIC's loans and guarantees include: Shajiao Power Plants B&C, Guangzhou-Shenzhen Superhighway, and Nanhai Power Plant 1.
Joint Venture Structure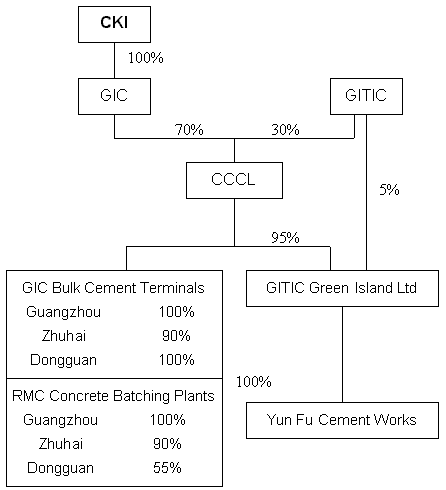 go back