Crosscity Motorway Welcomes Starts of Works
28 January, 2003 -- Hong Kong
The CrossCity Motorway today welcomed the start of works on the transport infrastructure project that will provide far-reaching benefits for the people of Sydney.
When completed, the Cross City Tunnel will revolutionise travel patterns across Sydney, taking a large number of vehicles per day off the city's streets and freeing up the city for pedestrians and public transport.
CrossCity Motorway represents a fresh approach to delivering transport infrastructure in Sydney, calling upon demonstrated engineering innovation, world-wide experience and financial strength.
The CrossCity Motorway is made up of Cheung Kong Infrastructure Holdings Ltd (CKI) (50%), DB Capital Partners (30%) and Bilfinger Berger BOT GmbH (20%), the investment company of Bilfinger Berger AG.
The massive design and construction task for the 2.2 km tunnels is being undertaken by Baulderstone Hornibrook, builders of Sydney landmarks including the Opera House, the Anzac Bridge and the M5 East, supported by Bilfinger Berger AG.
When completed, the Cross City Tunnel will be Sydney's first fully electronic motorway - using E Tags and electronic transponders and eliminating the need to stop at any toll booths.
CKI Deputy Managing Director, Mr Eric Kwan, said CKI was very pleased to have the opportunity to be a major investor and to contribute their extensive infrastructure experiences to this important project.
"CKI will draw from our experience in the operation of the Eastern Harbour Crossing in Hong Kong as well as the operation of about 500km toll roads and bridges in Mainland China for this important element of the New South Wales road system," Mr Kwan said.
Baulderstone Hornibrook Chief Executive Mr Liam Forde said construction of the Cross City Tunnel presented unique engineering and social challenges.
"Baulderstone Hornibrook will be responsible for design and construction of the project as well as the ongoing operation and maintenance of the completed tunnel. We are committed to working closely with local communities and other stakeholders during the construction phase and look forward to long term relationships with them as we operate this important community facility," Mr Forde said.
Mr Forde said Baulderstone Hornibrook's parent group, Bilfinger Berger, is a world-leader in tunneling technologies, having constructed over 200 tunnels around the world.
Deutsche Bank Australia CEO Mr Chum Darvall said the Cross City Tunnel was an infrastructure project which DB Capital Partners had identified for the long term benefit of superannuants.
"The team we have assembled has the depth and world wide experience in financing and equity management of major transport infrastructure to deliver a superior product," Mr Darvall said.
Mr Peter Sansom, Chief Executive Officer of CrossCity Motorway, said the benefits of the new project should not be underestimated.
"The Cross City Tunnel will offer significantly reduced travel times and provide a key link for Sydney's transport system," Mr Sansom said.
"It will make the city a more pleasant place for pedestrians, motorists and business people and will also improve environmental quality and conditions within the city," he said.
Mr Sansom said the Cross City Tunnel team was committed to working closely with local communities and motorists during the construction period.
"The overall implementation of this project has been designed to minimize local impacts, and we will be working very closely with community groups to keep them fully informed," he said.
- End -
Cross City Motorway
Information Sheet
CrossCity Motorway draws together the strengths of five acknowledged leaders in their respective fields:
Cheung Kong Infrastructure Holdings Ltd (CKI) is a 50% investor in CrossCity Motorway and is one of the world's largest infrastructure investors. CKI is the largest diversified infrastructure company listed on the Hong Kong Stock Exchange with a current market capitalization of approximately HK $30 billion. Over the last three years CKI has invested in approximately A$7 billion of infrastructure assets in Australia. In the toll road sector, CKI currently owns and operates about 500km of toll roads and bridges in Hong Kong and Mainland China.
DB Capital Partners has 30 per cent equity in the project on behalf of a number of Australian superannuation funds, including Development Australia Fund. As one of the largest infrastructure fund managers in Australia, DB Capital Partners manages a range of domestic assets including Australian listed equities, direct and indirect property assets, fixed income assets and private equities. They are one of Australia's leading private equity investment managers with more than $1.5 billion invested in infrastructure and private equity, including a 25% stake in Melbourne Airport.
Bilfinger Berger AG is Baulderstone Hornibrook's parent group and is one of Germany's largest civil engineering companies with operations spanning the world. Bilfinger Berger has a 20 per cent equity holding in CCM through Bilfinger Berger BOT GmbH, its investment company for concession projects. Bilfinger Berger has a dedicated tunnel division and the group has constructed over 200 tunnels world-wide over a period in excess of 100 years. It has extensive experience in major design and construction projects such as tunnels, motorways, bridges and office buildings. Bilfinger Berger has an annual turnover of more than Eur 4.5 billion, a market capitalization of Eur 940 million as at June 2002 and more than 43,000 employees.
Tunneling and road building expert Baulderstone Hornibrook, the group who completed the M5 East including its 4km twin tunnels six months ahead of schedule. Some previous projects include the Sydney Opera House, the Anzac Bridge and Melbourne's Western Link Tollroad. Baulderstone Hornibrook is Design and Construction Contractor and Operations Contractor.
Deutsche Bank Group, one of the world's largest and most prominent financial institutions with a strong pedigree in major infrastructure and transport projects including the London underground and toll roads in Europe. A market leader in Australian financial markets, Deutsche Bank is one of the largest employers in the financial sector and is uniquely positioned as a key advisor in public and private sector partnerships. Deutsche Bank is joint Project Sponsor, Financial Adviser, Debt Arranger and Underwriter, Equity Arranger and Underwriter.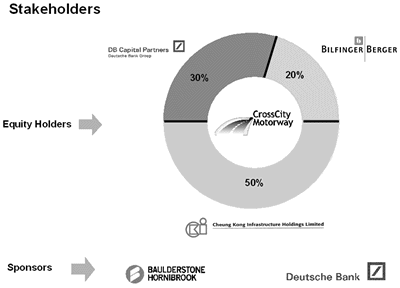 go back