CKI's $5 Billion Take-over Offer Accepted by Board of TransAlta Power in Canada
15 October, 2007
Cheung Kong Infrastructure Holdings Limited ("CKI" or the "Group") has signed a Support Agreement with TransAlta Power, L.P. ("TransAlta Power"), an energy company listed on the Toronto Stock Exchange (TSX: TPW.UN). Under the agreement, CKI will make an offer to acquire all of the issued and outstanding trust units of TransAlta Power for a cash consideration of HK$65.95 (C$8.38) per unit by way of a take-over bid. The transaction is valued at approximately HK$4,950 million (C$629 million).
Under the Support Agreement, TransAlta Power would send out a director's circular to TransAlta Power unitholders stating the unanimous recommendation of the board of directors for acceptance of the offer.
A take-over bid circular, containing the full terms of the offer, is expected to be mailed to TransAlta Power unitholders together with the board of directors' circular and other related documents by the end of October.
The offer is subject to acceptance by at least 66 2/3 of unitholders. The acquisition is expected to be completed by early 2008 after the receipt of the necessary regulatory approvals and acceptance by unitholders.
TransAlta Power owns a 49.99% interest in TransAlta Cogeneration, L.P. ("TransAlta Cogeneration") which has stakes in six Canadian generating plants. They include five natural-gas powered cogeneration units in Alberta, Saskatchewan and Ontario, and a coal-fired generation plant in Alberta. The plants have a total generating capacity of 1,362 MW of electric power.
Mr H L Kam, Group Managing Director of the Group, commented: "The proposed acquisition will provide immediate cashflow stream and profit contribution. As a long-term investor, we expect TransAlta Power to generate steady returns for the Group over the years."
"This is CKI's second initiative in recent months to expand its electricity generation portfolio. With the proposed 2,000 MW new power plant units in Zhuhai announced recently, together with TransAlta Power's electricity assets, our total installed capacity would then be increased to over 10,000 MW. The electricity generation investments would then span across Hong Kong, Mainland China and Canada," Mr Kam said.
"CKI has always been very interested in expanding our presence into North America. The proposed acquisition of TransAlta Power is a springboard for CKI into the Canadian energy market. Our energy portfolio now spans across Hong Kong, Mainland China, the United Kingdom and Australia, and we look forward to further expanding into North America," Mr Kam continued.
The Cheung Kong Group, of which CKI is a member, is one of the largest foreign investors in Canada, with a portfolio that includes a 34.6% interest in Husky Energy Inc. ("Husky"). The power plant in Saskatchewan is jointly owned, 50/50, by TransAlta Cogeneration and Husky. In addition, Husky also supplies gas to TransAlta Cogeneration's gas-fired cogeneration plant in Mississauga, Ontario.
"Through the proposed acquisition of TransAlta Power, CKI will further strengthen the Cheung Kong Group's presence in Canada," Mr Kam commented.
"CKI has cash on hand of nearly HK$9 billion at present. In view of the liquidity situation in the global markets and the affordability to compete for mega-infrastructure projects, CKI remains in an excellent position to pursue good acquisition opportunities," concluded Mr Kam.
- End -
Attachments
1 ) Appendix 1 - CKI's Electricity Generation Portfolio
2 ) Appendix 2 - CKI's Global Energy Investments
About CKI
CKI is the largest publicly listed infrastructure company in Hong Kong with diversified investments in Energy Infrastructure, Transportation Infrastructure, Water Infrastructure and Infrastructure Related Business. Operating in Hong Kong, Mainland China, Australia, the United Kingdom, Canada and the Philippines, it is a leading player in the global infrastructure arena.

About TransAlta Power
TransAlta Power, L.P. owns a 49.99% interest in TransAlta Cogeneration, L.P., which owns interests in five gas-fired cogeneration facilities in Ontario, Alberta and Saskatchewan and in a coal-fired, mine-mouth facility in Alberta. These facilities have a total generating capacity of 1,362 MW of electric power, all of which is sold under long-term contracts to high-quality counterparties.
Appendix 1
CKI's Electricity Generation Portfolio
With the successful acquisition of TransAlta Power, CKI's energy generation will comprise:
Country/ Region
Project
Installed Capacity
A) Existing Projects
Hong Kong
Hongkong Electric
3,755 MW
Mainland China
Fushun Cogen Power Plants
150 MW
Mainland China
Siping Cogen Power Plants
200 MW
Mainland China
Zhuhai Power Plant (Units 1 & 2)
1,400 MW
Mainland China
Zhuhai Jinwan Phase 1 Power Plant Project
1,200 MW
Subtotal
6,705 MW
B) Projects Pending Approval
Mainland China
Zhuhai Jinwan Phase 2 Power Plant Project
2,000 MW
Canada
Sheerness Generation Plant
780 MW
Canada
Fort Saskatchewan Cogen Plant
118 MW
Canada
Meridian Cogen Plant
220 MW
Canada
Mississauga Cogen Plant
108 MW
Canada
Ottowa Cogen Plant
68 MW
Canada
Windsor Cogen Plant
68 MW
Subtotal
3,362 MW
Total
10,067 MW
Appendix 2
CKI's Global Energy Investments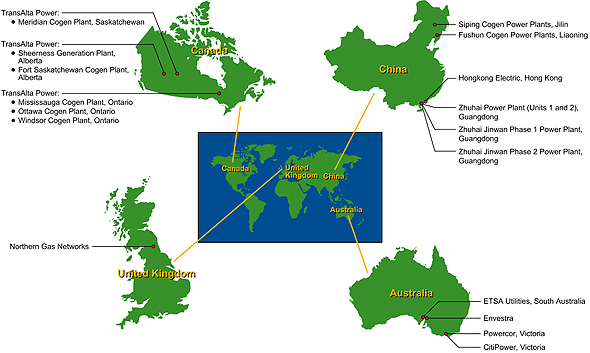 go back