CKI Wins Silver Award at International ARC Awards
16 October, 2008
Cheung Kong Infrastructure Holdings ("CKI" or the "Group") is pleased to announce that its 2007 annual report has been recognized by the International ARC Awards 2008.
The Group has received the Silver Award for Cover Photo/Design in the Infrastructure Company category, representing the highest honour in this category this year.
The main theme of CKI's 2007 annual report is "Reaching New Heights". The design of the annual report reflects this by showing CKI's continued upward growth trend.

The cover design shows a pole vaulter launching into the air and about to cross the horizontal bar. This is a striking visual metaphor that shows the new heights that CKI has reached in terms of financial performance and business development. In the 2007 financial year, CKI's profit increased by 30% to reach HK$4.8 billion and turnover increased 23% to HK5.9 billion, underpinned by strong performances from all of its infrastructure businesses.

According to the financial media, the International ARC Awards are the "Academy Awards of Annual Reports" and it is now the largest international competition honouring excellence in annual reports.
The International ARC Awards are organized by MerComm, Inc., an independent organization dedicated to defining the standards of excellence in the communications fields. The MerComm Awards programmes have achieved world-wide recognition for their integrity and fairness in their judging procedures.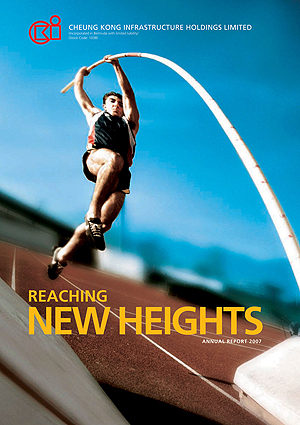 - End -
About CKI
CKI is the largest publicly listed infrastructure company in Hong Kong with diversified investments in Energy Infrastructure, Transportation Infrastructure, Water Infrastructure and Infrastructure Related Business. Operating in Hong Kong, Mainland China, Australia, New Zealand, the United Kingdom, Canada and the Philippines, it is a leading player in the global infrastructure arena.

go back